Kensoft is certified by Bureau Veritas in the integral areas of Design, Development & Maintainence of Enterprise ready FinTech Applications with advanced DSS



Kensoft Infotech Ltd. is an ISO 9001-2008 Certified Company with Bureau Veritas & UKAS - QMS. We are Certified in the integral areas of Design, Development and Maintenance of Customized ERP Software Solutions and Cloud Products. Kensoft Software Systems are appraised and approved by IIT (Indian Institute of Technology, Mumbai), for its design and software capabilities of handling large projects.The Kensoft team has expertise and immense experience in client-server, three-tier and web technologies. Strong database skills in RDBMS coupled with domain knowledge in areas of finance, banking and financial DSS are some of the highlights. Our build up of evolved knowledge based libraries, ensures that either customisation of our existing suite of products or developing a new product ground upwards is done in the fastest turnaround time.
We have built a large base of IP (Intellectual property) in software products over the years. Kensoft Infotech is an Oracle Gold Partner, providing ERP scale solutions on Oracle engines. Kensoft's products are also available under special approval from ORACLE for special licensing options along with Oracle engines and enterprise software services. Get in touch with us today to learn more about how your organisation can benefit from this. Our Operations and Partners span India, USA, U.K and other areas.
With a high ROI, we are certain that our Award Winning Software Products will help your enterprise leap-frog to the next level. Our highly integrated Enterprise Lending Software Products have managed & monitored the entire life cycle of Loans & business operations of midsize companies as well as large corporations. Our experience ranges from eGovernance projects to development & implementation of mission critical applications for NBFCs, Commercial Banks & FIs. We have more than 15 years of rich industry experience, technological competence and proven operational excellence. It is apparent that you get access to our extensive knowledgebase with our products.
To have a look at instances from some of our projects across various domains, please click here.

Thanks for visiting and be sure to check back often for updated information. View
Privacy Statement
Benchmarking Excellence in IT across the BFSI sector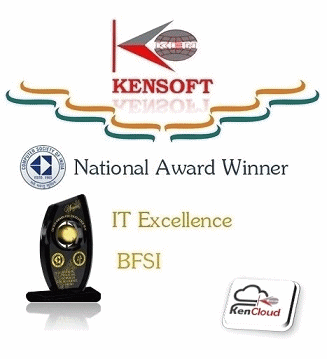 Kensoft Infotech is a proud recipient of the prestigious CSI National Award for Excellence in IT - BFSI at the 48th CSI Convention. The Computer Society of India has instituted this National Award for those who have implemented exemplary projects in the field of IT to meet their organizational goals and improve service delivery to the target segment. Formed in 1965, the CSI has been instrumental in guiding the Indian IT industry down the right path since its formative years. Today, the CSI has over 73 chapters with more than 1,00,000 members, including India's most renowned IT industry leaders, brilliant scientists and dedicated academicians. Since it's inception, the CSI has been in close liaison with International Federation for Information Processing (IFIP) for researchers and professionals working in the field of information and communication technologies (ICT) to conduct research and develop IT standards globally. The evaluation process for banking and finance software solutions was conducted with knowledge partner Deloitte and included a rigorous three tier selection & qualification process to select the winners. The Jury nominated comprised of: Top Industrialists , Senior CSI members, Renowned Academicians and well known practitioner's of Information & Communication Technology.
The award was conferred by Mr. J Satyanarayana, Secretary-DOE (DeitY), Union Ministry of IT and Prof. S V Raghavan, Scientific Secretary to the Union Government, President - Computer Society of India as well as other eminent dignitaries and senior officials at the Pan India CSI Awards Convention for Banking and Finance Software Solutions. The finalists and star participants were Datamatics Global Services Ltd, Union Bank of India, Tech Mahindra, Bharat Heavy Electricals Ltd, iGate, IBM, Reliance Infra and other corporations of distinguished stature.
The breadth of our product offering and services brings unique convergence of domain knowledge and technology. Our services are designed to help organizations efficiently and effectively address their business needs and challenges across multiple domains. We have more than 15 years of rich industry experience, technological competence and proven operational excellence.

Thanks for visiting and be sure to check back often for updated information.
Cloud Ready FinTech Applications
Kensoft Infotech has a specialised range of enterprise level Banking & Loaning Software Products with a advanced DSS ecosystem. These high-performance Cloud Ready Software Products are part of the KenCloud Suite of FinTech Applications.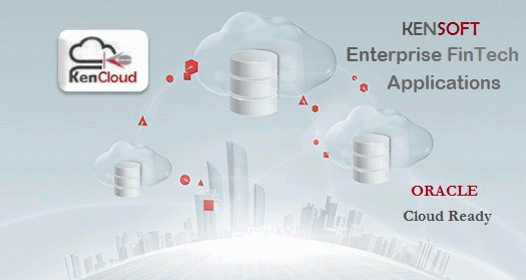 Our Suite of Cloud Applications are designed and developed on state of the art web-tier architecture with Superior performance for medium to high volume environments on the Oracle Cloud Platform. Some of the key KenCloud Applications are CAMS (Credit Appraisal Management System), LIFA (Loan Integrated Financial Accounting), RFS (Re-Finance Solutions with Asset-Liability matrix), CSDM (Collateral Security and Document Management) and CIMS Customer Interaction Management System. These solutions are designed and optimized for the industry's broadest and most integrated Oracle Cloud Platform.
Some key features and modules of the KenCloud suite are illustrated as follows:
CAMS offers a structured model for retail and business loans appraisal with an Internal rating model for assessment of the credit worthiness of such individuals or entities seeking loans with all required qualitative and quantitative parameters including financial viability ratios.
These Rating parameters and scores are tracked for new and existing customers.
CSDM (Collateral Security & Document Management) has a comprehensive legal title scrutiny and legal document management system for each individual security.
A systematic record of security documents required and submitted by the customers are kept in the system & maintained during the entire life cycle of their loans.
There is also an integrated Recovery Management & Performance system which enables Identification and listing of first-time and subsequent defaulters while allocating loan accounts to Recovery Officers or Recovery Agents.
With our Customer Interaction & Monitoring System, your NBFC / FI can reach out to thousands of customers from varied demographic and geographical segments. CIMS is designed with electronic uploading & a self serve facility which is online for loan accounts of subscribed customers.